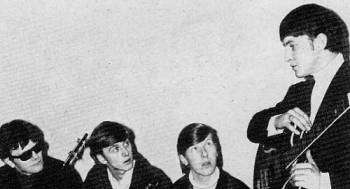 Harry Kershaw, Bjørn Holte Jensen, Niels Kjær Mortensen, John Inglis
Dansk/engelsk beatgruppe dannet foråret 1965 af
John Inglis (vo, lead-g)
Harry Kershaw (lead-vo, el-b)
(begge tidligere backingmusikere for den engelske popsanger Jimmy Justice) sammen med
Bjørn Holte Jensen (rhythm-g)
Ejnar Strauss (dm) (begge tidligere Beat Nicks).
Kershaw havde tidligere inspillet LP med den engelske gruppe The Giants i Tyskland i 64.
Ex-Checkers blev bogstaveligt talt skabt i og af Hit House, da de to englændere skulle have fast engagement for at blive i Danmark! I april 65 erstattedes Strauss af
Niels Kjær Mortensen (dm) (ex-Les Rivals).
Gruppen opbyggede en enorm popularitet i Hit House i de følgende måneder. Ex-Checkers' absolutte frontfigur var John Inglis, som var en habil sanger, og en fantastisk guitarist og komponist, men gruppen opløstes allerede i november 1965. Det er tidligere hævdet, at Inglis og Kershaw blev nægtet fortsat opholdstilladelse, men dette er ikke rigtigt - Kershaw forlod først landet omkring 1970. Nåede trods den korte levetid at udsende to singler og én LP (dog udsendt efter gruppens opløsning i januar 1966). Kjær fortsatte med Lions og Holte med Rocking Ghosts. Inglis vendte hurtigt tilbage til landet (da han blev dansk gift med Miss Danmark 66) og arbejdede som disc jockey. Indspillede 4 numre for Gold Records under navnet John Inglis & his Group med
Torben Sardorf (dm)
Ricky Charman (el-b).
Indspilningen udsendtes aldrig offentligt, men to af dem (5) udsendtes på en reklameplade for et sæbe-firma! Inglis spillede med Scarlets i 67-68.


1.

Long, long time
Spanish Harlem

mTeener ST 41 364 (7/1965)

2.

Wolly bully
Let it happen

mTeener ST 41370 (9/1965)


Forretningsreklame
3.

That'll be the day
A little bit of soap

mMagenta DGM 19006 (Argentina 1966)

4.

Everyday I have to cry
Do the dog

mMagenta DGM ? (Argentina 1966)

5.

Let it happen with
Let the four winds blow
Lonely weekends
That'll be the day
Colours
Do the dog
Let it happen
A little bit of soap
Voodoo woman
Lonely bull
Whole lotta' lovin'
I'm gonna be strong
Every day I have to cry

lTeener LPQ 39013 (1/1966)


Samplers:
S66e.

Long kiss nr.3
I'm looking for
Tell me

'DGR 121 (flexi-1966)

L66a.

World pop music
Do the dog
Everyday I have to cry

lMagenta 5.001 (Argentina 1966)

L66b.

Me volvere loco
That'll be the day
A little bit of soup

lMagenta 5.009 (Argentina 1966)

L85b.

True love has gone forever - more Copenhagen beat 63-68
Long long time
Wolly bully (stereo)

lKing Beat Records KB 2 (1985)
oHit'n'Beat CD-0106 (Tyskland 2001)


LP

CD
L85a.

Copenhagen beat
I'm looking for
Tell me

oHit'n'beat CD-0010 (Tyskland 2000)

L106a.

Absolut HitHouse 1964-1968 vol.1
Land of thousand dances

oFrost Records FROST 0106 (2006)

L106c.

Hit House
Long long time
Spanish Harlem
Wolly bully
Let it happen
Mrs. Brown, you've got a lovely daughter
Land of a 1000 dances
Another love song
Let the four winds blow
Lonely weekends
That'll be the day
Colours
Do the dog
A little bit of soap
Voodoo woman
Lonely bull
Whole lotta' lovin
I'm gonna be strong
Every day I have to cry
I'm looking for
Tell me

ooUniversal 987 631 4 (2006)